Of special interest
Howard Marshall's new book (with CD) has arrived and there was a book-signing at Downtown Book & Toy on High Street in Jeff City in June.
This is the project that picks up where the 2012 book & CD, "Play Me Something Quick and Devilish," left off. So, the time span for "Fiddler's Dream" is from the 1920s to the early 1960s, and it includes chapters on early fiddlers contests, swing, early bluegrass, and more.
The book is 450 pages, and has 119 photographs and 24 fiddle tune transcriptions. Published by the University of Missouri Press (Columbia). The CD was produced by Voyager Records (Seattle, WA).
The CD that comes with the book includes 30 tunes, ranging from a 1939 radio broadcast featuring Lonnie Robertson to a 2015 home recording of Cecil Goforth. Other fiddlers represented on the CD (many more are discussed in the book) are Howe Teague, Roy Wooliver, Bert Lewis, Billy Moore, Don Russell, Leroy Canaday, Larry Ellis, Luther Caldwell, Emmett Heath, Zed Tennis, Bobby Joe Caldwell, Dale Pauley, Jamie Haage, Lyman Enloe, Delbert Spray, Warren Helton, Roger Williams, John Williams, and Pete McMahan. There are also tunes from Missouri fiddlers who migrated to the West -- Ishmael (Ozark Red) Loveall, Earl Willis, Ellis Cowan, Ron Hughey, and Bob Fast.
New, from Cathy and Dave: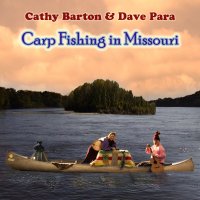 As close to an instrumental album they're going to get, featuring Cathy on banjo and hammered dulcimer and Dave on guitar, playing a mix of fiddle tunes learned in Missouri long ago as well as those more recent gifts acquired at annual trips to Carp Camp at the Walnut Valley Festival in Winfield. With old and new friends featured on fiddles, mandolins, guitars, bass, piano and percussion we arrange 35 tunes in 17 tracks. Yes, there are four songs, too. Hear some clips and order from our website http://bartonpara.com/bp/index.php/music/
Now accepting submissions for Missouri Folklore Studies, an online archive of occasional papers on the traditions of Missouri and its residents.
Members -- here's a printable .pdf of the society's trifold brochure
Students -- apply for the Dolf and Becky Schroeder prize in folklore!
New or renewing member?
Click here for the membership form (.pdf to print and mail)
Links especially for members of MFS
Click here for a listing of ongoing and developing projects and folklore collections to which you can contribute.
Support your Missouri Folklore Society: music and opportunities to donate
Click here to send a note to the newsletter editor on Missouri folklore, folklife or folkarts people and events;
please note: the Missouri Folklore Society will not share its membership list with any individual or organization, nor do we accept paid advertising.

This page appears courtesy of Truman State University
last updated 8-29-17
index