MISSOURI FOLKLORE Society
ANNUAL MEETING
2010
HILLS, HOLLERS, AND HISTORY
NEOSHO, MO
NOVEMBER 4-6, 2010
Approximately 170 years ago, in a place far, far away (or at least about as far as you can get for Missourians who live north and east), Scots, English and Irish settlers established a permanent settlement here. Native Americans had called the site Neosho, meaning abundant and clear waters. The springs and streams still flow to refresh travelers, including the members of MFS who will arrive November 4-6.
Note that the theme, "Hills, Hollers, and History" is sufficiently broad,in order to include those program topics you now have in mind, and those still to be envisioned.
All meetings take place in the FIRST BAPTIST CHURCH. According to current plans, meals will be catered and served here as well. The selected motel is the BEST WESTERN BIG SPRINGS LODGE, $69.99 per night, including full hot breakfast.
Twenty rooms are already on hold, and additional rooms will be available as needed.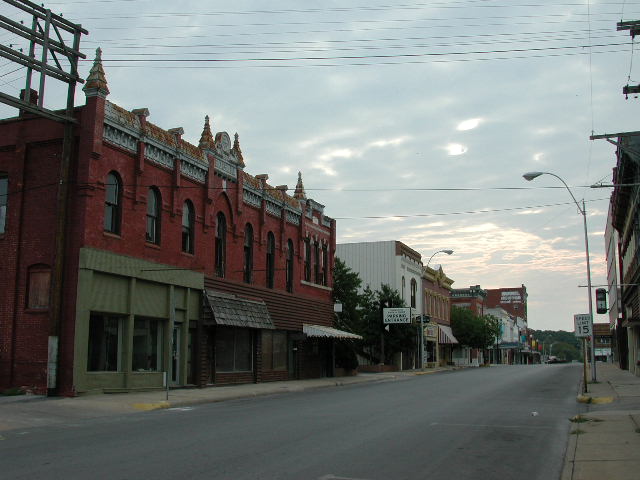 PH: 417-455-2300; 1-877-345-9645 reservations.
A second site is the SUPER 8, at $49.00 per night, hot breakfast included.
PH: 417-455-1888/1-800-800-8000 reservations
Yes, there will be the usual picking, strumming, fiddling, humming, story-telling, programming, singing, and auctioning. Click here for the first call for papers.
TEN REASONS TO COME TO NEOSHO in 2010:
It is "the southern edge of the Midwest."
Grapes bred by Neosho winemaker Hermann Jeager, assisted by others,
saved the French wine industry. Viva la Neosho.
A Native American casino is nearby.
The Saturn V rocket was tested here.
The oldest National Fish Hatchery still operates
The Confederate secessionists came to set up a provisional Capital
Mines in Newton County produced lead and zinc
Camp Crowder was here during WWII; Crowder College is here now.
You will join other legendary figures who spent time in Neosho:
Muralist Thomas Hart Benton
Ragtime composer James Scott
Botanist George Washington Carver
Writer/producer Carl Reiner
Comedian Dick Van Dyke
Cartoonist Mort Walker
Perhaps even Beetle Bailey.
10. You have time to brush up on the 800+ gospel songs composed by Albert E. Brumley. We expect harmony and descants on "I'll Fly Away."
Consider this YOUR first call to come to NEOSHO.
For further information, contact
Betty Craker Henderson, bchenderson39@yahoo.com
and/or
Liz Faries, clfaries@charter.net